Magnify your intentions of creating amazing web applications
Ember.js is an open-source client-side Model-View-Controller based JavaScript web application framework. In other words, it helps you create web apps, fast.

ALL ABOUT EMBER.JS
Ember is not far behind with a bucket of features. For your programmers reasons why Ember.JS has such a jaw-dropping users.
If you have explored and loved Ruby on Rails for your application's backend development, you will be the fan of Ember.JS too.
The ability to have intelligently-cached properties that will update automatically when underlying dependencies is likewise not exclusive to Ember.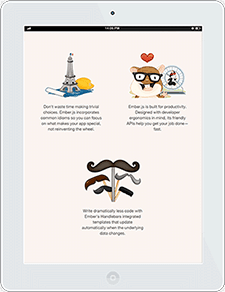 The community around Ember.js has grown significantly since I started using it. With that have come a great number of useful addons.
Developers can also join existing Ember projects much faster – they are already familiar with the Ember.js conventions, migration.
This is why the Ember.JS has been welcomed by startups and business across domains. Take Apple Music as an example where the Ember.JS is used.
WHAT DO WE DO?
Discover iTech has a dynamic team who has more than a decade of experience in handling projects with Ember.
A solution, however, would appear to be on the way in the form of Glimmer.
Ember basically recreated the best parts of Ruby objects, and then built.
Our team has developed quite a lot of experience with Ember over the years.
Developers increasingly turn to client-side frameworks to simplify development.