Episerver Development
Discover iTech provides customized Ektron content management solutions for a large and diverse array of client requirements.
Ektron and Discover iTech
Ektron was acquired by Accel-KKR and its product development resources were merged with Episerver, a sister portfolio company. Although Accel leadership has disputed the notion that Ektron is being sunset, the company has very publicly hitched its wagon to its other web-based CMS platform, Episerver, as the product for future platform generations. Accel's selection of Episerver makes clear that there will not be any additional generations of the Ektron platform.
For organizations that have their site on Ektron a plan for the post-Ektron future is needed now. Below we've outlined seven important reasons to recommend an accelerated migration timeline away from Ektron and onto a more future ready CMS like Kentico, Sitecore, Drupal, WordPress, Sitefinity among others.
Ektron Development:
Development hours and resources are required for simple site additions or edits in Ektron that could be handled independent of the dev staff in better CMS platforms.
Ektron Integration:
Ektron is not a pure ASP.NET implementation. It is a retrofitted legacy ASP implementation. New CMS apps will not work with Ektron without extensive customization.
Ektron Upgrades:
Delaying the inevitable move from Ektron may expose an organization to undue, avoidable risk and cost. Now is the time to pick a new CMS.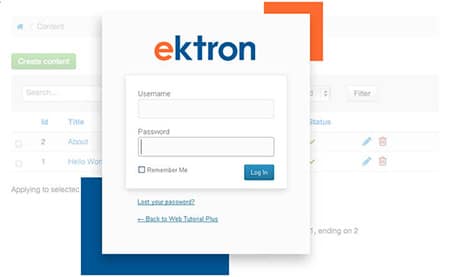 Why Ektron Content Management?
Plan & Research
A research plan is not a formal research proposal, although it may well be the foundation document from which a detailed research proposal may be developed.
Integration
Web integration therefore involves a process of connecting all the outputs of all activities and components essential for carrying out the web project as a whole.
Email Marketing
Sending emails with the purpose of enhancing the relationship of a merchant with its current or previous customers and to encourage customer loyalty and repeat business.